Meal Breaks in California
Know Your Rights as an Employee
As a dedicated employee in the state of California, it's essential to be well-informed about your rights and protections under California's labor laws. One of the vital aspects of employment law in California that directly affects you is meal breaks. At CIELO LAW FIRM, we are committed to ensuring that California employees are well-informed about their rights. That's why we've created a dedicated section called 'Cielo Informs You.' In this article, as part of our 'Cielo Informs You' initiative, we'll answer your questions about California's meal break laws and provide you with essential information to assert your rights effectively in the workplace.
What Do I Need to Know About Meal Break in California?
California Labor Code section 512 and Wage Orders issued by the California Industrial Welfare Commission establish fundamental rules regarding meal breaks, aimed at safeguarding the well-being of employees.
1. When Should I Take My Meal Breaks?
If you work for more than five hours in a day, you have the right to an unpaid meal break of at least 30 minutes. This break should be given no later than the end of your fifth hour of work.
For shifts that exceed ten hours, you are entitled to a second unpaid meal break of at least 30 minutes. This second break should be provided no later than the end of your tenth hour of work.
2. Are Meal Breaks Optional?
Your meal breaks are not optional perks but your legal right as an employee in California. Your employer must provide you with these breaks, and they should not interfere with your ability to take them.
3. On-Duty Meal Periods and Special Circumstances
In certain cases, an "on-duty" meal period may be permitted. This means you remain on the clock while eating, but only if the nature of your work prevents you from being relieved of all duty, and you agree to it in writing with your employer.
An "on-duty" meal period will be counted as hours worked and paid for at your regular rate of pay.
The nature of the work preventing an employee from being relieved of all duty is determined by objective criteria.
Examples of jobs fitting this category include a sole worker in a coffee kiosk, a sole worker in an all-night convenience store, and a security guard stationed alone at a remote site.
4. What If My Employer Doesn't Allow Me to Take a Meal Period?
Your Rights and Actions
Yes, there is something you can do if you are covered by the meal period requirements of the law. If your employer fails to provide the required meal period, you are entitled to receive one hour of pay at your regular rate of compensation (commonly known as meal period premium pay) for each workday that the meal period is not provided.
This means that if your employer denies you a meal break, they must compensate you for the missed break by paying you an additional hour's wage for that day.
If your employer fails to pay the additional one-hour's pay, you have the option to file a wage claim with the Division of Labor Standards Enforcement (Visit "Useful Government Links for California Workers" to file a Wage Claim)
5. Can I Work Through My Meal Period to Leave Early?
No, You Can't Leave Early
Working through your meal period does not entitle you to leave work early before your scheduled quitting time. In order for an "on-duty" meal period to be permitted under the Industrial Welfare Commission Wage Orders, the nature of the work must actually prevent the employee from being relieved of all duty, and there must be a written agreement that an on-the-job paid meal period is agreed to. Additionally, the written agreement must also state that the employee may, in writing, revoke the agreement at any time.
6. Can My Employer Require Me to Stay on the Premises During My Meal Period?
Yes, Your Employer Can Require It
Your employer can require that you remain on its premises during your meal period, even if you are relieved of all work duties. However, if that occurs, you are being denied your time for your own purposes, and, in effect, remain under the employer's control. Therefore, the meal period must be paid. Minor exceptions to this general rule exist under IWC Order 5-2001 regarding healthcare workers. Pursuant to the Industrial Welfare Commission Wage Orders, if you are required to eat on the premises, a suitable place for that purpose must be designated. "Suitable" means a sheltered place with facilities available for securing hot food and drink or for heating food or drink, and for consuming such food and drink.
7. What to Do When Your Meal Breaks Are Denied
If your employer is not providing you with proper meal breaks according to California labor law, take these steps:
Talk to Your Employer: Start by discussing the issue with your employer, supervisor, manager or HR department.

Keep Records: Maintain a record of missed or shortened breaks, including dates and times. If they interrupted your meal breaks with work-related text messages or calls, keep records of them on your calendar or journey.

Seek Legal Advice: Consider consulting an employment attorney for guidance and potential legal action.

File a Wage Claim: If necessary, file a wage claim to address violations and recover unpaid wages.
8. What If My Employer Retaliates Against Me for Asking About Meal Breaks?
You Have Rights Against Retaliation
If your employer discriminates or retaliates against you in any manner whatsoever, such as discharging you because you asked about not getting a meal period, objected to what you believe to be an illegal practice, or because you filed a claim or threatened to file a claim with the Labor Commissioner or the Civil Rights Department (CRD), you can take action (Visit "Useful Government Links for California Workers" to file a Retaliation Complaint)
You can file a discrimination/retaliation complaint with a government entity.
Alternatively, you can file a lawsuit in court against your employer to protect your rights.
Keeping Records of Communications
Remember that documenting your experiences and maintaining a written record of your complaints and interactions with supervisors and HR are critical steps in building a strong case.  These records can provide the evidence needed to support your claims and protect your rights. After discussing your meal break rights with your supervisor or HR verbally, it's advisable to send them an email summarizing your understanding of the conversation.
Maintain a record of all communication related to your complaints. This includes emails, letters, or notes from meetings or conversations with supervisors, HR representatives, or any other relevant parties. Having a clear record of your efforts to address the issue is vital.
Fighting Retaliation & Discrimination Together
If you or someone you know has experienced workplace retaliation and/or discrimination, please don't hesitate to contact Cielo Law Firm for legal assistance. Your rights matter, and we are here to help you protect them. Reach out to us via our contact page, WhatsApp, or just give us a call at 949-556-3677 and let us be your advocate for justice and workplace equality.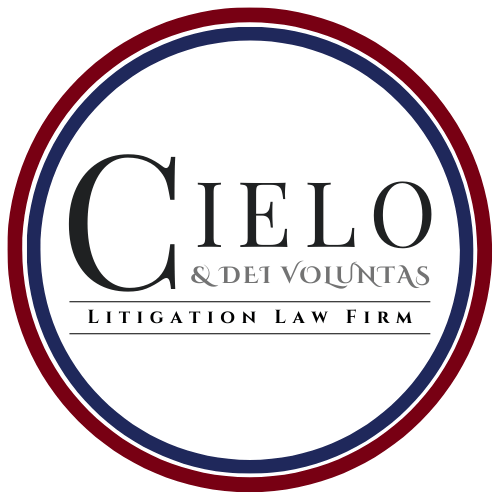 Cielo & Dei Voluntas Law Firm
We understand that every case is unique, and we take the time to thoroughly review the facts and develop a tailored strategy to ensure the best possible outcome for our clients. We are committed to a high standard of legal excellence and strive to provide the highest level of client service. 
Our lawyers are dedicated to providing personalized and attentive service to help our clients understand their legal rights. We are passionate about advocating for our clients and helping them to achieve the best possible outcome.
Looking for an Experienced Discrimination Attorney?
We represent employees throughout Southern California, including San Bernardino County, Los Angeles, San Diego and Orange County
California Employee's Quick Guide
All you Need to Know