Hispanic Workers' Rights in California
Empowering Hispanic Workers and Promoting Equality in California
What Employees Need to Know
Workplace discrimination is an all-too-common problem that impacts people from diverse backgrounds. California, renowned for its cultural diversity and a melting pot of ethnicities, races, and cultures, faces a unique challenge in combating discrimination in the workplace. This article seeks to illuminate the challenges faced by Hispanic workers in California and offers a legal perspective on addressing and rectifying this issue.
But the beauty of this article is that California's workers' rights apply to all employees equally, so feel free to substitute 'Hispanic' with any term as you read. We promise you won't be disappointed. Embrace our differences, and together, we can create a better workplace environment.
In the following sections, we will delve deeper into the challenges that Hispanic workers in California may face and the legal measures in place to protect their rights and ensure equality in the workplace.
Unmasking Workplace Bias: A Closer Look at Discrimination
Overview of Workplace Discrimination
Workplace discrimination is a significant concern, encompassing various forms such as racial, ethnic, and gender discrimination. In California, where diversity is celebrated, addressing these issues is crucial. Discrimination not only harms individuals but also erodes the principles of equality and fairness that our society values deeply. Legal safeguards against workplace discrimination are essential, ensuring that everyone can work in an environment free from bias and prejudice. Fortunately, if you're reading this article, you're likely in California, a state that champions diversity through robust anti-discrimination laws, creating a workplace environment that prioritizes the well-being and rights of its employees. After all, employees are the backbone of our society and economy.
The Vibrant Hispanic Population in California
Diversity and History
California boasts a rich tapestry of cultures, and at the heart of this cultural mosaic lies a thriving Hispanic community. With its roots deeply intertwined in the state's history, the Hispanic population in California contributes significantly to the fabric of the Golden State.
California stands as a true melting pot of diversity, and the Hispanic community plays a pivotal role in this vibrant mix. Recent statistics underline the magnitude of this presence, revealing that Hispanics constitute an impressive 39% of the state's total population. These numbers underscore not just their quantity but also the profound influence they exert on California's society.
Beyond Statistics, a Cultural Legacy
However, it's not just in numbers that the Hispanic community leaves its mark; it's in the rich tapestry of culture and traditions they bring with them. California's streets are alive with the sounds of mariachi bands, the aromas of traditional cuisine waft through neighborhoods, and the vibrant colors of Latino festivals paint the state's cultural canvas.
Beyond cultural contributions, Hispanic workers form an integral part of California's economic backbone. They are found in every sector, from agriculture to technology, contributing their skills, knowledge, and work ethic to the state's prosperity. As the state's economic engine hums, it is fueled in no small part by the dedication and hard work of Hispanic employees.
In California, the Hispanic community and their invaluable contributions stand as a testament to the state's dedication to diversity and inclusion. They reflect the collective vision of a society that recognizes and celebrates the strength that arises when individuals from various backgrounds come together to create a more vibrant and prosperous whole.
Common Forms of Discrimination Against Hispanic Workers in California
Sadly, Hispanic workers in California frequently encounter various forms of workplace discrimination, which can significantly impact their professional lives and overall well-being. Here, we'll explore some of the common types of discrimination often faced by Hispanic employees:
Racial Profiling: One distressing form of discrimination is racial profiling, where Hispanic workers may experience unfair treatment or suspicion based solely on their ethnicity or racial background. This can lead to unwarranted scrutiny, prejudice, and limited opportunities for career advancement.
Language Barriers: Language should never be a barrier to fair treatment in the workplace, yet language differences can isolate Hispanic workers, making effective communication with coworkers and supervisors challenging. These barriers can hinder career growth and perpetuate feelings of exclusion.
Wage Disparities: Wage disparities are another concern within the Hispanic workforce in California. Some Hispanic employees may receive lower pay compared to their non-Hispanic counterparts, despite having similar qualifications and job responsibilities. This wage gap not only affects personal financial stability but also contributes to systemic workplace inequalities. Read more about Pay Discrimination in our article "Can a Co-Worker Earn More Than Me?"
Real-Life Impact
Examples
To underscore the real-world consequences of these challenges, let's consider some instances faced by Hispanic workers in California:
Struggle for Equal Pay: Maria, a highly skilled Hispanic professional, consistently received lower compensation than her non-Hispanic colleagues, even though she possessed similar qualifications and performed equivalent tasks. Maria's case highlights the enduring issue of wage discrimination in the workplace.

Language Barrier: Javier, an experienced Hispanic worker, faced difficulties due to language barriers at his workplace. His inability to communicate effectively with supervisors and coworkers left him vulnerable to mistreatment. This example illustrates the challenges some Hispanic employees encounter due to language disparities.

Stereotyping and Microaggressions: David, a Hispanic employee, often faced subtle forms of discrimination through stereotyping and microaggressions. Colleagues would make presumptions about his background, such as assuming he was an immigrant or questioning his proficiency in English, leading to feelings of alienation and undermining his self-esteem.

Hostile Work Environment: Jose, a Hispanic worker, endured a hostile work environment where derogatory comments and offensive jokes targeting his ethnicity were commonplace. Despite his complaints to supervisors, the harassment persisted, creating a deeply distressing workplace atmosphere that adversely affected his mental health and job satisfaction.

Unequal Opportunities for Advancement: Rosa, a talented Hispanic professional, consistently found herself overlooked for promotions despite her outstanding performance and qualifications. Her non-Hispanic counterparts with similar skills and experience were frequently chosen for advancement opportunities, illustrating a clear pattern of discriminatory practices in career progression.
These real-life examples shed light on the significant hurdles that Hispanic workers may confront in California workplaces. While they exemplify the difficulties faced, they also emphasize the importance of addressing and remedying such discrimination to ensure that all employees are treated fairly and equitably. In the subsequent sections, we will delve into the legal protections and recourse available to combat these forms of discrimination and promote equality in the workplace.
California Labor Laws and Protections
California boasts a robust legal framework to combat workplace discrimination and champion workplace diversity and inclusion. The California Civil Rights Department, a cornerstone of this framework, plays a pivotal role in enforcing these laws, ensuring that victims of discrimination have a voice and the necessary recourse to protect their rights and dignity.
Advancing Equal Opportunity
California's labor laws are dedicated to establishing and preserving equal opportunities for all employees, regardless of their background or characteristics. These laws embody the state's unwavering commitment to cultivating workplaces that are free from discrimination and harassment, where merit and talent are celebrated without bias.
The California Civil Rights Department
The California Civil Rights Department (CRD) is at the forefront of safeguarding these principles. As a state agency, it takes a proactive stance in addressing workplace discrimination by promoting and enforcing California's anti-discrimination laws. Its mission revolves around preserving the rights of employees and ensuring that workplaces throughout the state adhere to the highest standards of fairness and equality.
Key Aspects of California Labor Laws
Protection for All: California labor laws extend protection to employees belonging to various protected classes, encompassing characteristics such as race, color, national origin, religion, gender, disability, and more. These laws make it illegal for employers to discriminate against employees based on these attributes.

Preventing Harassment: California's labor laws unequivocally forbid workplace harassment, whether it's sexual, racial, or any other form. Employers are mandated to take proactive measures to prevent and promptly address harassment.

Reasonable Accommodations: California law underscores the importance of reasonable accommodations for employees with disabilities or religious requirements, ensuring that individuals can fully participate in their workplace without facing undue hardship.

Equal Pay: California's labor laws place a strong emphasis on pay equity, making it illegal to differentially compensate employees based on factors such as gender, race, or other protected characteristics when they perform substantially similar work.

Whistleblower Protection: The state also provides protection for employees who courageously report unlawful activities or discrimination in the workplace, shielding those who seek to uphold ethical standards.
California's labor laws, enforced through the California Civil Rights Department (CRD), reflect the shared vision of a just and inclusive workplace. With these laws and the dedication of a vigilant agency, California leads the way in ensuring that every worker enjoys a fair and respectful work environment. In the following sections, we will explore the legal remedies available to Hispanic workers who may encounter discrimination in California and the steps they can take to safeguard their rights.
You have the right to work in an environment free of discrimination, including harassment, based on your race, color, ancestry, national origin, Religion, creed, Age – 40 and over, Disability, mental and physical, Sex, gender,  Medical condition, Genetic Information, Marital status, Military or veteran status, sexual orientation, gender expression and/or gender identity. You cannot be:
harassed,

demoted,

fired,

paid less,

refused employment,

retaliated,

or otherwise treated unfairly,
because of these protected classes.
All employees, job applicants, and contractors, regardless of their background, must be treated with dignity and respect. Regardless of your Hispanic heritage, your right to be treated fairly and respectfully should be upheld.
Employers cannot inquire about your personal information or identification beyond what they request from all other employees or applicants. This includes medical information related to your background or identity. Your privacy and personal information should be equally respected.
In summary, your rights as a Hispanic worker encompass protection from discrimination, equal treatment, privacy, and respect for your identity and dignity. Upholding these rights is essential to fostering a workplace that celebrates diversity and ensures fairness for all employees, regardless of their background or identity.
Legal Recourse for Victims of Discrimination
For Hispanic workers or any worker who experiences discrimination in California, there are legal options available to seek justice. It's crucial to understand these options, which may include filing complaints, pursuing litigation, or seeking mediation. Engaging an experienced attorney, such as the dedicated team at Cielo Law Firm, can significantly enhance the chances of a successful discrimination claim.
Steps to Take When Faced with Discrimination
When confronted with discrimination in the workplace, it's crucial to respond effectively to protect your rights and seek justice. Here's a concise guide outlining the essential steps to take:
1. Document Incidents:
Begin by documenting any discriminatory incidents you experience or witness. This documentation should include details such as dates, times, locations, individuals involved, and descriptions of what transpired. Be as specific and accurate as possible, as these records will serve as valuable evidence later. Some individuals find it helpful to send themselves and/or a trusted friend an email with all this information shortly after the incident, ensuring they have a dated record readily available.
2. Gather Evidence:
Collect any relevant evidence that supports your discrimination claims. This may include emails, text messages, memos, photographs, or any other tangible proof of discriminatory actions or comments. These records can significantly strengthen your case.
3. Maintain Open Communication:
It's important to communicate your concerns about discrimination. Start by addressing the issue directly with the individual responsible, if you feel safe doing so. In many cases, misunderstandings can be resolved through open dialogue.
4. Report to Supervisors or HR:
If addressing the issue directly doesn't lead to a resolution or is not possible due to safety concerns, report the discrimination to your immediate supervisor or the Human Resources (HR) department. Follow your company's established reporting procedures, which often involve submitting a written complaint or filling out a formal incident report.
5. Keep a Record of Communication:
Maintain a record of all communication related to your discrimination complaint. This includes emails, letters, or notes from meetings or conversations with supervisors, HR representatives, or any other relevant parties. Having a clear record of your efforts to address the issue is vital.
6. Seek Legal Counsel:
If the discrimination persists despite reporting it internally, or if your concerns are not adequately addressed, consult with an attorney experienced in employment discrimination cases. They can provide guidance on your legal rights and the next steps to take.
7. Explore External Remedies:
Depending on the severity of the discrimination and your jurisdiction, you may also consider filing a complaint with external agencies, such as the California Civil Rights Department or the Equal Employment Opportunity Commission (EEOC).
Remember that documenting your experiences and maintaining a written record of your complaints and interactions with supervisors and HR are critical steps in building a strong case against workplace discrimination and a hostile work environment. These records can provide the evidence needed to support your claims and protect your rights. After discussing a hostile work environment or discriminatory situation with your supervisor or HR verbally, it's advisable to send them an email summarizing your understanding of the conversation.
Fighting Discrimination Together
Discrimination is a societal issue that requires collective action. We encourage all readers to stand against discrimination and support diversity and inclusion in their workplaces and communities. Cielo Law Firm is committed to advocating for the rights of Hispanic workers in California and helping build a more inclusive and equal society.
If you or someone you know has experienced workplace discrimination, please don't hesitate to contact Cielo Law Firm for legal assistance. Your rights matter, and we're here to help you protect them. Reach out to us via our contact page, WhatsApp, or just give us a call at 949-556-3677 and let us be your advocate for justice and workplace equality.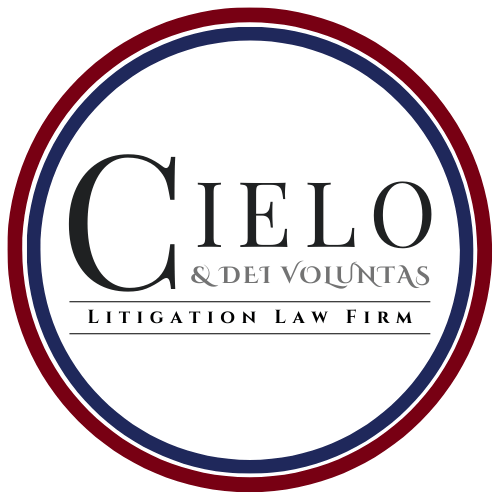 Cielo & Dei Voluntas Law Firm
We understand that every case is unique, and we take the time to thoroughly review the facts and develop a tailored strategy to ensure the best possible outcome for our clients. We are committed to a high standard of legal excellence and strive to provide the highest level of client service. 
Our lawyers are dedicated to providing personalized and attentive service to help our clients understand their legal rights. We are passionate about advocating for our clients and helping them to achieve the best possible outcome.
Looking for an Experienced Discrimination Attorney?
We represent employees throughout Southern California, including San Bernardino County, Los Angeles, San Diego and Orange County
California Employee's Quick Guide
All you Need to Know