California's Religious Discrimination Laws
What Every Employee Should Know
Religious discrimination is defined as treating someone unfairly or unequally because of their religious beliefs, practices, or affiliations. This can include denying an individual a job, promotion, or other opportunities because of their religion, as well as subjecting them to harassment or a hostile work environment. Maybe you were treated differently because of your religious dress or grooming practices. Even coerced into engaging in activities or practices that contradict your beliefs.
Examples of Religious Discrimination in the Workplace
Denying an employee a promotion or job opportunity because of their religious beliefs or practices
Refusing to accommodate an employee's religious dress or grooming practices
Harassment or ridicule of an employee because of their religion
Refusing to allow an employee to take time off for religious observances or holidays
Forcing an employee to participate in religious activities or practices that go against their beliefs
Denying an employee's request for a reasonable accommodation of their religious beliefs or practices
Terminating an employee because of their religion
Different treatment of an employee based on their religion or the religion of their associates. When someone is treated differently because they are associated with or married to someone of a particular religion.
Demanding an employee to participate (or refrain from participating) in a religious activity as a condition of employment.
Religious Discrimination and Harassment is illegal under State and Federal Laws
Understanding California Employment Laws about Religious Discrimination
Let's be clear about this: It is illegal to harass a person because of his or her religion. The First Amendment protects against religious discrimination.
You have the right to practice- or refrain from practicing- any religion.
Both California State and Federal laws make employment discrimination because of someone's religious beliefs and faith illegal, and protect workers who choose to openly practice the religion of their choice.
The Civil Rights Act's Title VII
Title VII of the Civil Rights Act was passed in 1964, prohibiting companies and employers from hiring or firing people based on their religious beliefs or lack thereof. Title VII also prohibits employers from establishing employment terms and conditions based on religious beliefs. This section of the law also prohibits religious segregation of tasks or positions, such as assigning an employee to a non-customer contact position due to actual or perceived customer preference.
Retaliation against an individual for opposing religiously discriminatory employment practices or for filing a discrimination charge, participating in an investigation, or testifying in litigation is also prohibited under Title VII.
California's Laws on Religious Discrimination
Protections provided by FEHA for Employees
Religious discrimination is illegal in California under the Fair Employment and Housing Act – FEHA.
It is illegal for a business with five or more employees to discriminate against an applicant or employee on the basis of a "protected category," such as religion. Harassment based on a protected category (race, color, ancestry, national origin, religion, age – over 40, physical or mental disability, sex, gender identity, sexual orientation, pregnancy, marital status, medical condition, genetic information, or military/veteran status) is illegal under the FEHA, regardless of the size of the employer.
Employees are protected under the FEHA from discrimination based on their religion, as well as their religious observances, practices, and beliefs. This means that you cannot be discriminated against during the hiring process, or promotion, nor be terminated due to your beliefs and religion, or any other employment-related decisions taken by your employer.
The FEHA provides you with the following protections:
The right to religious beliefs, observances, and practices to be accommodated unless doing so would place an undue burden on the employer.

The right not to face harassment or retaliation because of religious beliefs, practices, or observances

The right to seek monetary compensation for emotional distress, lost wages, and other losses caused by religious discrimination or retaliation.
Reasonable Accommodation for Religious Beliefs and Practices
Title VII of the Civil Rights Act requires employers to reasonably accommodate not only applicants' and employees' religious beliefs, but also their practices. A reasonable religious accommodation is one that is made to the job or schedule to allow the employee to practice their religion. Flexible scheduling, voluntary shift substitutions or swaps, lateral job reassignments, and exceptions to dress codes or grooming regulations are examples of this.
However, If any of these religious accommodations impose undue hardships on the employer's business, exceptions must be made on a case-by-case basis.
Here are some Examples of potential undue hardships to an Employer's Business
If the accommodation:
raises costs, 

reduces efficiency, 

jeopardizes employee safety, 

infringes on other employees' rights, 

or requires other employees to do more than their fair share of potentially hazardous or burdensome work. 
An employer may also demonstrate undue hardship if his company has a seniority system or collective bargaining agreement that is violated by a religious accommodation.
Can you Sue for Discrimination of Religion in California?
Yes, you can sue your employer if you were the victim of harassment or discrimination because of your beliefs and religious practices. You can bring a discrimination claim in federal or state (it depends on several factors) court under the California Fair Employment and Housing Act (FEHA). To do so, you must usually need some kind of proof or evidence that they were treated differently because of their religion. Maybe you complain about it in an email sent to Human Resources or talked about it with your supervisor. In some cases, an experienced discrimination attorney can gather evidence from job performance evaluations, a change in salary or position, or other sources.
What Should California Employees Do if They Believe They Have Been Discriminated Against?
If an employee in California believes they have been discriminated against due to their religion, requesting reasonable accommodations for religious practices, or any of the protected classes (Race, color, Ancestry, national origin, Religion, creed, Age – 40 and over, Disability, mental and physical, Sex, gender, Sexual orientation, Gender identity, gender expression, Medical condition, Pregnancy, Genetic information, Marital status, Military or veteran status), they should report it to their employer. If the employer does not take action to address the complaint, the employee can file a complaint with The Civil Rights Department (CRD). The CRD will investigate the complaint and take action if they find that the employer has violated the law.
Also, if an employee believes they have been discriminated against, they should seek legal advice from an experienced discrimination attorney.

Religious Discrimination Lawyer in Southern California
If you have a question about workplace religious discrimination, please contact the attorneys at Cielo & Dei Voluntas Law Firm for a free and confidential intake process. Our skilled employment law attorneys may be able to help you with your situation.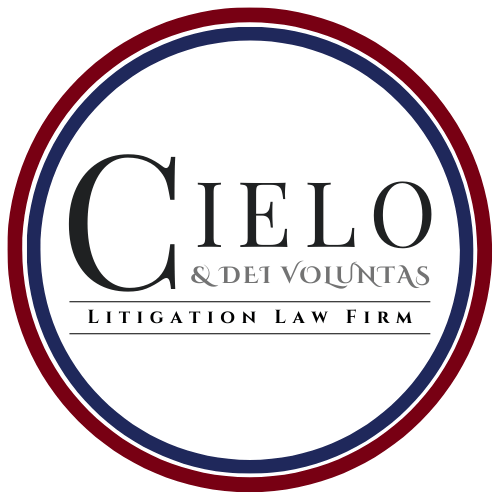 Cielo & Dei Voluntas Law Firm
We understand that every case is unique, and we take the time to thoroughly review the facts and develop a tailored strategy to ensure the best possible outcome for our clients. We are committed to a high standard of legal excellence and strive to provide the highest level of client service. 
Our lawyers are dedicated to providing personalized and attentive service to help our clients understand their legal rights. We are passionate about advocating for our clients and helping them to achieve the best possible outcome.
Looking for an Experienced Discrimination Attorney?
We represent employees throughout Southern California, including San Bernardino County, Los Angeles, and Orange County
California Employee's Quick Guide
All you Need to Know